The Bond



Posted by swell_sailor - Apr 30, 2012 - 7:08am
I'm pretty sure Petey's early life was spent with some drunk ass who drove a beat up truck, cursed a lot, and was abusive toward dogs. I don't know what the asshat called Petey. I'm not so sure it matters. What matters is that somehow Petey managed to escape and eventually found himself in an animal shelter.
He spent enough time at the animal shelter that he eventually ended up on death row. It's hard to believe such an amazing spirit would spend so much of his young life being rejected by humans. But that's how it went until an agency involved in rescuing good animals in bad situations stepped in to save him.
The next chapter of his life found him at a foster home where he got to hang out with a couple of other dogs and some children who decided to call him Pumpkinhead. Those kids must have really loved him to come up with a name like that. He spent lots of time outdoors chasing a big ball around the grounds, living a much happier dogs life than what he'd previously lived. I think he lived there for two or three months. Long enough that by the time Mrs. SS saw the ad and contacted the woman fostering him, she knew a lot about who he was and how he behaved.
A year or so earlier Mrs. SS told me she wanted a dog. I've always gotten along well with dogs, and I've been lucky enough to spend time with some really good one's. But life was more complicated now, so I was a bit reluctant. After giving it some thought, I agreed that we could get a dog. Mrs. SS had shared a dog with her previous boyfriend that had really won her over. I knew this dog. She was a beautiful 35 pound female mutt, with brown hair and golden eyes. It wasn't long before a dog showed up that was the spitting image of this dog. The new dog, Kona, had been adopted by a young couple a month or so earlier. They told Mrs. SS everything she wanted to hear about the dog, none of which was true. After a long weekend with Kona it was obvious that she wasn't the dog we were told she was. I knew Mrs. SS felt obligated to save her, but I reminded her that we can't save every dog, and that saving this one would present a greater challenge than we were likely prepared for. I told her it was okay to take Kona back. So that's what she did. Mrs. SS eventually thanked me, both for letting her bring a dog home, and for telling her it was okay to take Kona back. She also said she'd learned her lesson, and that maybe she didn't want a dog after all.
A year passed before she approached me again about a dog. This time I told her yes, but that the dog needed to meet some requirements before she brought her home. She needed to be a dog that didn't bark, didn't dig, was house trained, and was eager to please. She also needed to be a 30-40 pound female. It wasn't long before she'd found a new candidate. The dog met all the criteria but two. He was a 70 pound male. I told Mrs. SS that all the other requirements were more important and harder to come by, and that if he were really all these things, most importantly eager to please, I was willing to give him a try.
So she brought him home.
I still have a mental image of the first time I saw him. A skinny boy, standing up in the back of the car as Mrs. SS did her usual u-turn in front of our old house. He looked nervous. He didn't yet know that in his new life he'd travel to 7 national parks. He didn't know he'd swim in the Pacific Ocean and hike at 10,000 feet in the La Sal Mountains of Utah. He didn't know he'd chase sticks into waves ten times his size in the Columbia River. He didn't know he'd earn the stamina to run with us on 25 mile mountain bike rides. He didn't know he'd travel to 9 different states, mountain biking in 7 of them. He didn't know that he'd be given the name Petey, which I think was probably his real name all along. He didn't know he'd form an eternal bond with a particular human who will love him forever.
Nor did I.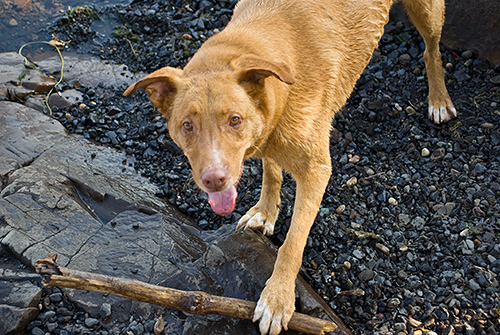 | | |
| --- | --- |
| 20 comments on this journal entry. [ add yours ] | |
helenofjoy
What Day Is This?


Location: Arlington, VA




| | |
| --- | --- |
| Posted: May 8, 2012 - 4:25am | |

---

Oh Petey Petey~ his stories always make my heart swell up and bring tears to my eyes. My Miski is now going deaf and maybe a little bit senile. She is still a lover puppy though and she continues to direct all of my household actions and wakes me on time in the morning. Petey was a lucky fellow indeed to have found you. I believe he still receives your love in his new incarnation - love energy travels true.

steeler
About three bricks shy of a load


Location: Perched on the precipice of the cauldron of truth




| | |
| --- | --- |
| Posted: May 2, 2012 - 11:50am | |

---

My dog died about 2.5 years ago, and I still think about her on a near daily basis. She was about 12.

There is a strong bond.

Thanks for the essay.




swell_sailor
Eternal


Location: The Gorge




| | |
| --- | --- |
| Posted: May 2, 2012 - 10:48am | |

---

Thanks again for all the comments. It's been over a year since Petey moved on. In that time I've learned that, without a doubt, he will never leave my heart.

And this picture, I just found it in the archive. It's so Petey. Looking at it now gives me goose bumps.


EleventhMan







| | |
| --- | --- |
| Posted: May 2, 2012 - 10:36am | |

---

my personal thoery is that when an animal REALLY trusts you they whisper their real name to you...and so it seems Petey has. lucky you.

kurtster
Ignore the kitteh behind the kurtain


Location: Back in Ohiya, for now ...




| | |
| --- | --- |
| Posted: May 2, 2012 - 8:52am | |

---

Happiness is always just around the next bend.




Alexandra



Location: PNW




| | |
| --- | --- |
| Posted: May 1, 2012 - 6:40pm | |

---

That was simply beautiful.

CCinSB



Location: the west coast




| | |
| --- | --- |
| Posted: May 1, 2012 - 3:34pm | |

---

Rescue dogs, (and cats) are the best! Thank you for opening your home and heart to Petey!


Skaterella



Location: jrzy




| | |
| --- | --- |
| Posted: May 1, 2012 - 11:23am | |

---

Glad you found each other!

duchamp
Just Whistling Dixie


Location: Florida Panhandle




| | |
| --- | --- |
| Posted: May 1, 2012 - 9:14am | |

---

Thanks for your poignant story of Petey. :verklempt:


lily34
STFU


Location: GTFO




| | |
| --- | --- |
| Posted: May 1, 2012 - 8:23am | |

---

milan kundera is one of my favorite authors...love that quote. thanks!


swell_sailor
Eternal


Location: The Gorge




| | |
| --- | --- |
| Posted: May 1, 2012 - 7:14am | |

---

Thanks everyone, both for your comments and your photos.

And yes Buzz, Mrs. SS got the dog she was hoping for. I got something I didn't see coming.


buzz
banjaxed


Location: up the boohai




| | |
| --- | --- |
| Posted: May 1, 2012 - 6:49am | |

---

so, you got Petey. did Mrs SS ever get a dog?


HazzeSwede
Riding in The Side-Car,whoosh!


Location: Vinyl Land




| | |
| --- | --- |
| Posted: May 1, 2012 - 4:23am | |

Xeric
Oh! This!


Location: Montana




| | |
| --- | --- |
| Posted: Apr 30, 2012 - 9:14pm | |

---

Beautiful again, SS. Thank you, again, too. And you too, Petey.



Coaxial
SHINE ON


Location: 543 miles west of Paradis,1491 miles east of Paradise




| | |
| --- | --- |
| Posted: Apr 30, 2012 - 3:31pm | |

lily34
STFU


Location: GTFO




| | |
| --- | --- |
| Posted: Apr 30, 2012 - 1:37pm | |

---

yes.

stella blue

roxy fandango

hippiechick
Did you ever grow anything in the garden of your mind?


Location: topsy turvy land




| | |
| --- | --- |
| Posted: Apr 30, 2012 - 12:44pm | |

Antigone



Location: A house, in a Virginian Valley




| | |
| --- | --- |
| Posted: Apr 30, 2012 - 9:02am | |

cc_rider
Love the Meatball. BE the Meatball.


Location: Austin Texas. Y'all.




| | |
| --- | --- |
| Posted: Apr 30, 2012 - 8:53am | |

---

Echo what the fiddle said. Thank you.


oldviolin
ab origine


Location: Esse Quam Videri




| | |
| --- | --- |
| Posted: Apr 30, 2012 - 7:16am | |