Journal of justlistening
Race - then and now
Posted: Sep 19, 2012 - 11:20pm
So a friend of the family - a twenty something going to college in Northern Califorina, who I'll call T, posted this to his Facebook page awhile ago:
The most ignorant comment I hear is "since ur black u vote for Obama" racism is still in America people! Btw Obama is half white for all y'all that don't know
Some of his friends from the South agreed and commiserated how it was even worse down there. The tone was more annoyance and dismay than serious anger. One friend even declared how racism was as alive as ever. That got me thinking about my childhood in the 60s and 70s and how things have changed. Since tomorrow, September 20th, marks the 50th anniversary of the day
...
[
Show full text and comments (11)
]
Classic Comment
Posted: Sep 8, 2011 - 1:42pm
Drink Kool Aid...? I do too.
Posted: Jun 27, 2011 - 8:14pm
Kurster made a great point about bowling in the 911 koolaide post, but apparently I've pissed the author off because he keeps deleting my commentary. Not that it's all that important but I've posted below instead.
You're absolutely right kurster, what do celebrities know about bowling? I mean, nice shoes Kim. And apparently Osama's attempt to win the hearts of Americans through ...
[
Show full text and comments (11)
]
Mammoth!
Posted: Feb 27, 2011 - 8:36pm
My two daughters and I went to Mammoth with some friends Presidents' day weekend. My son was supposed to go too but he gave blood at the Red Cross and they hit a nerve in his arm. He could not extend it - not to mention the pain - so unfortunatley he decided not to go. A good choice since it was the first time snowboarding for all of us and falling on the arm would have been excruciating.
Being an avid skier I was ambivalent about strapping on a snowboard, but I'm glad I did. It was great fun taking lessons with my daughters. The weather was sublime - it snowed Friday night and then Sat., Sun. and Monday were absolutely gorgeous. Tons of powder to cushion our falls. Thought I'd share some pics.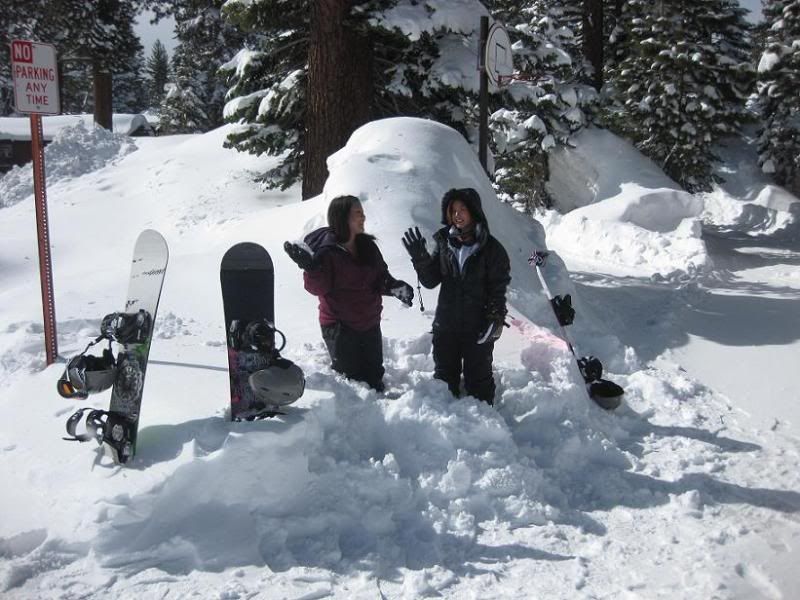 ...
[
Show full text and comments (8)
]
Top of The Heap
Posted: Jan 18, 2011 - 6:17pm
Somebody just had to knock that spammer shawnchin down a notch.





[ Show Comments (3) ]
I Love a Good Christmas Story
Posted: Dec 6, 2010 - 11:05am
A Little Christmas Story
When four of Santa's elves got sick, the trainee elves did not produce toys as fast as the regular ones, and Santa began to feel the Pre-Christmas preessure. Then Mrs. Claus told Santa her Mother was coming to visit, which stressed Santa even more.
When he went to harness the reindeer, he found that three of them were about to give birth and two others had jumped the fence and were out, Heaven knows where.
Then when he began to load the sleigh, one of the floorboards cracked, the toy bag fell to the ground and all the toys were scattered.
Frustrated, Santa went in the house for a cup of apple cider and a shot of rum. When he went to the cupboard, he discovered the elves had drunk all the cider and hidden the liquor. In his frustration, he accidentally dropped the cider jug, and it broke into hundreds of little glass pieces all over ...
[
Show full text and comments (6)
]
justlistening - Oct 21, 2010
Posted: Oct 21, 2010 - 6:17pm
I'm opening my own practice!



[ Show Comments (3) ]
Won't Get Fooled Again
Posted: Jul 3, 2010 - 6:04pm
So after being told to F*$K off while in the
Israel
forum yesterday, I decided to check out a DVD I recently received as a birthday present. It is The Who at Kilburn - 1977. I was 15 in 1977. My parents were pretty strict - so although I'd been to a few concerts by age 15 The Who would have been out of the question. I never got to see them live.
Watching the DVD makes me sad I didn't. The DVD is actually two discs. Disc 2 is a concert in 1969 right after they had done Tommy. The quality of this concert is not great. The lighting was not done for video recording so there are many scenes that suffer. On top of that, this is a young, mostly unpolished Who.
In contrast, the 1977 disc is fantastic quality. The Who are now post Quadraphenia and are just a much stronger band. I'd always heard how legendary Keith Moon was on drums, but this video really displays his ...
[
Show full text and comments (6)
]
Toyota Recall and Duct Tape
Posted: Feb 4, 2010 - 10:10pm
So last September after giving my daughter my 8 year old Toyota so she could commute to school and work, I bought myself a new one. Little did I know what I was getting into. I figure I'll toss the mats, duct tape a large spring under the pedal and spray the heck out of all the moving parts on the pedal with WD40 - it's gotta work! On the brightside, if I get pulled over for speeding I have something to blame it on.

I think Toyota should change their slogan to Toyota - We can't be stopped!





[ Show Comments (12) ]
Swing Vote or Comic Relief
Posted: Oct 6, 2008 - 11:59pm
Not looking to start a Red/Blue war - just liked the novelty, and this place is about the music. Nice to see a creative expression sans vitriol. Enjoy....perhaps:

Swing Vote Obama

and to be fair

Swing Vote

McCain

or skip the music and enjoy this bit of comedy from

Richard Jeni

instead - says it all about the right, the left, and the center!



[ Show Comments (2) ]
The Ass
Posted: Jul 7, 2006 - 2:57pm
Probably would have been better to post this in the "Have a Good Joke You Can Post?" forum, but considering the recent activity here in the Journals I thought it was relevant....
The pastor entered his donkey in a race and it won.
The pastor was so pleased with the donkey that he entered it in the race again, and it won again.
The local paper read:
PASTOR'S ASS OUT FRONT
The Bishop was so upset with this kind of publicity that he ordered the pastor not to enter the donkey in another race.
The next day, the local paper headline read:
BISHOP SCRATCHES PASTOR'S ASS.
This was too much for the bishop, so he ordered the pastor to get rid of the donkey.
The pastor decided to give it to a nun in a nearby convent.
The local paper, hearing of the news, posted the following headline the next day:
NUN HAS BEST ASS IN TOWN.
The bishop fainted. He informed the nun that she would have to get rid of the donkey, so she sold it ...
[
Show full text and comments (8)
]
Stale Old Abortion Arguments
Posted: Apr 27, 2005 - 8:31pm
Twenty-five years ago in a college philosophy class the professor asked everyone to argue both sides of the abortion issue. Twenty-five years later the arguments and comments are the same. I know they were the same long before I ever considered the issue.
We all like to believe that there is always a clear cut right or wrong. Nearly everyone agrees that murder harms society - there is a law against. Nearly everyone agrees that pedophilia harms society - thus there are laws against it.
The fact that society remains split on this issue is the very reason that society, for the most part, has legalized free choice.
I like indigo_xia's comment that being agnositic makes her choice easier. I imagine the people who are religious feel the same way.
For me it's more practical. My two daughters are adopted. Two separate women decided to trust that there would be others who would love and care for their children. My daughters are wonderful, happy ...
[
Show full text and comments (6)
]
Things that Made me Laugh this Week
Posted: Apr 14, 2005 - 12:20pm
All Your Base Are Belong to Us
AND this:
Is thinking ruining your life? Don't despair. Its never too late to
become the person you could have been.
-----------------------
It started out innocently enough: I began to think at parties now and
then - to loosen up. Inevitably, though, one thought led to another,
and soon I was more than just a social thinker.
I began to think alone -- "to relax," I told myself - but I knew it
wasn't true. Thinking became more and more important to me, and finally
I was thinking all the time.
I began to think on the job. I knew that thinking and employment don't
mix, but I couldn't stop myself. I began to avoid friends at lunchtime
so I could read Thoreau and Kafka. I would return to the office dizzied
and confused, asking "What is it exactly are we doing here?"
Things weren't going so great at home either. One evening I ...
[
Show full text and comments (5)
]
Spontaneous Kindness
Posted: May 27, 2004 - 12:23pm
Don't know if this is a true story or a contrived one - it certainly has a high sapiness factor. It came to me as one of those "pass it on" emails (which I hate doing because people get enough spam in their mailboxes).
I thought it was a touching story though, and certainly appropriate with graduation here, or close for many. Thought I'd pass it on via a journal entry - enjoy:
One day, when I was a freshman in high school, I saw a kid from my class was walking home from school. His name was Kyle. It looked like he was carrying all of his books. I thought to myself, "Why would anyone bring home all his books on a Friday? He must really be a nerd."
I had quite a weekend planned (parties and a football game with my friends tomorrow afternoon), so I shrugged my shoulders and went on. As I was walking, I saw a bunch of kids running toward him. They ran at him, knocking all his books out of his arms and tripping him so he landed in the dirt. His ...
[
Show full text and comments (2)
]
Feeding Wolves
Posted: Oct 25, 2003 - 12:45am
I'm not a big fan of pop internet philosophy - the kind that makes the rounds in email boxes and becomes so ubiquitous it quickly becomes trite and tired. I try to make it a rule not to send it out myself. Somehow it seems a little condencending towards my friends to assume that they will want inspirational or motivational emails from me (not to mention hard to live up to all that
'good'
advice myself let alone ask them to!!).
Recently my 8 year old daughter has had some difficulty controlling her temper. It's not surprising. One, it's in her personality. She's a fighter in the sense that she meets things head on. Being only 8 however she frequently takes on more than she can handle and her frustration can cross over to anger in a flash.
Secondly, her mom has a temper (a bad one) and unfortunately it is also a learned behaviour for my daughter.
I received the bit of wisdom below in an email quite awhile a go. I've only seen it once - ...
[
Show full text and comments (2)
]