Compared to what?



Posted by swell_sailor - Aug 6, 2012 - 8:11pm
I walked through the gallery door and immediately noticed the place was packed. Tonight was the opening of a show featuring photos of the Columbia River Gorge. A competition was held to determine the 40 finalists that would be featured. Two of my prints were among those final 40.
I started working my way around the room, looking closely at every image. I looked at the name of the image. I looked at the name of the artist who created the image. I looked at the presentation. I was impressed. This stuff was good. After I looked at 15 or so prints, I kinda started feeling sick to my stomach. I was embarrassed by what I'd submitted. I remember thinking that this was a good learning experience. I can't pretend to be as good as these artists.
I continued my way around the room and finally made it to my prints. I glanced at them and kept moving. I didn't really want to look at them.
Mrs SS approached me and told me that there was a participating artist name tag for me. I told her I didn't want to wear it. I didn't need a name tag. A few minutes later she came back with the tag and stuck it on my shirt. I asked her to please take it off, but she refused. When I learned that participating artists got a free beverage, I decided to make good use of the name tag and get myself a cold beer. Man that beer hit the spot. I was about halfway through the beer when people started gathering for the award presentations. Mrs. SS moved up close to the front, but I got stuck way in the back, which was alright with me. I'm kinda tall, so I had a good enough view.
They announced the third place winner, who wasn't there to accept their award. There was a little joking about who would get his prize. A moment went by, then they announced second place. The second place winner was me. I was flabbergasted. I must have looked like a deer in the headlights as I made my way through the crowd to accept my award. There were applause. There were lots of handshakes. For an hour or so there, I felt like a rock star. I felt like I'd taken first place. The whole experience was absolutely surreal.
That was one hell of a beer buzz.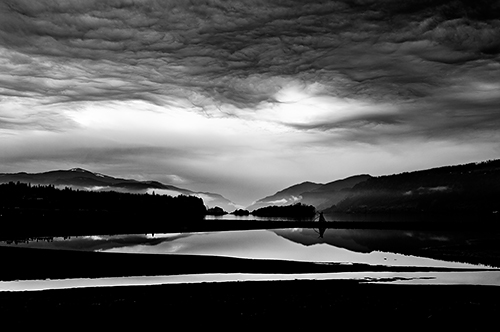 JustJanis
Simply the BEST. I miss her.


Location: The Pacific Northwest Baby!!!!




| | |
| --- | --- |
| Posted: Aug 9, 2012 - 9:00am | |

---

WOW! Mr. T, I pity da fool who has to compete against you in another show. But seriously (and seriously, I meant that) your work is beautiful, takes one to a place of calm, even before a storm (clouds). Very emotional stuff. Thanks for posting the winning photo. Mrs. SS knew a winner when she saw one!

JustJanis
Simply the BEST. I miss her.


Location: The Pacific Northwest Baby!!!!




| | |
| --- | --- |
| Posted: Aug 8, 2012 - 7:01pm | |

---

Hi Terry,

Rarely am I here anymore but I just checked in to see how the show went. I'd heard you submitted some photographs.

I am NOT surprised you came in 2nd (but I'm sure they made a mistake...your work is definately First Place stuff) and I am so happy for you!

Could you post the photograph you entered. Would love to see the WINNER!

Congratulations Terry!!!! You certainly deserved it.

swell_sailor
Eternal


Location: The Gorge




| | |
| --- | --- |
| Posted: Aug 8, 2012 - 6:36pm | |

---

Thanks everyone, for your kind comments.

It turns out Petey had something to do with that photo. One of Petey's favorite places to play was the Hood River sandbar. Especially in the winter. He had lots of dog friends down there. After he died I didn't really have a reason to go there anymore. I went there once to scatter some of his ashes, then I went again in February of this year, just to walk on the sand and think about the times he and I had there. I had my camera with me that day, and captured the image that took second place.

The competition had only a few rules. The photo had to have been taken in the Columbia River Gorge, light needed to be a significant element in the photo, and the photo had to have been taken after June 1, 2011. Petey just missed that window.


cc_rider
Love the Meatball. BE the Meatball.


Location: Austin Texas. Y'all.




| | |
| --- | --- |
| Posted: Aug 8, 2012 - 2:01pm | |

---

Well done, my friend.

Was Petey in any of the photos, or strictly landscapes?


helenofjoy
What Day Is This?


Location: Arlington, VA




| | |
| --- | --- |
| Posted: Aug 8, 2012 - 12:54pm | |

---

This WONDERFUL!! It doesn't matter what you write about - you always make me cry!


Leslie
FIGHT THE H8


Location: Antioch, CA




| | |
| --- | --- |
| Posted: Aug 7, 2012 - 8:33pm | |

---

I'm so happy for you. See, we've been telling you your photos are good!


kurtster
Ignore the kitteh behind the kurtain


Location: Back in Ohiya, for now ...




| | |
| --- | --- |
| Posted: Aug 7, 2012 - 6:30pm | |

Skaterella



Location: jrzy




| | |
| --- | --- |
| Posted: Aug 7, 2012 - 6:07pm | |

p4jkafla
Resident oddball


Location: New England, USA




| | |
| --- | --- |
| Posted: Aug 7, 2012 - 5:51pm | |

Xeric
Oh! This!


Location: Montana




| | |
| --- | --- |
| Posted: Aug 7, 2012 - 5:42pm | |

---

Remember that old beer commercial that went "Hanson? I am surprised." So, that . . . except . . .Hanson? I am not freaking surprised at all.



miamizsun



Location: (3261.3 Miles SE of RP)




| | |
| --- | --- |
| Posted: Aug 7, 2012 - 3:24pm | |

---

good work

OlderThanDirt
What A Trip!


Location: In Transit




| | |
| --- | --- |
| Posted: Aug 7, 2012 - 3:03pm | |

---

Great photo, SS. Congratulations.

lily34
STFU


Location: GTFO




| | |
| --- | --- |
| Posted: Aug 7, 2012 - 1:01pm | |

---

well said, jrzy

Manbird
Offal Makes Me Strong! Strong! Strong! Weak! Strong! Strong! Strong! Strong! Strong! Strong!


Location: Santa Rosa, CA




| | |
| --- | --- |
| Posted: Aug 7, 2012 - 11:58am | |

JrzyTmata
You say tomato, I say STFU!






| | |
| --- | --- |
| Posted: Aug 7, 2012 - 8:00am | |

---

Nicely done!!

I think it's looking at other artists' work with fresh eyes that makes us feel like our art doesn't measure up. We are used to seeing our art, our personal style. We might see the flaws and not the art as a whole. Step away from it for some time and come back with fresh eyes. Your work does measure up.

Orion6



Location: NOVA




| | |
| --- | --- |
| Posted: Aug 7, 2012 - 7:53am | |

---

Congratulations SS! You have a fantastic eye!

MsJudi
I would stand in line for this.


Location: Houston, TX




| | |
| --- | --- |
| Posted: Aug 7, 2012 - 7:45am | |

---

Congrats!!!

lily34
STFU


Location: GTFO




| | |
| --- | --- |
| Posted: Aug 7, 2012 - 7:43am | |

---

this doesn't surprise me one bit. you're supremely talented.

i'm glad you got some good recognition regarding this.

i'd like to know which of your prints you submitted, too. (sorry, i didnt read the comments before i posted mine)

buzz
banjaxed


Location: up the boohai




| | |
| --- | --- |
| Posted: Aug 7, 2012 - 7:17am | |

---

well done

steeler
About three bricks shy of a load


Location: Perched on the precipice of the cauldron of truth




| | |
| --- | --- |
| Posted: Aug 7, 2012 - 6:56am | |